[Rezension] The Raven Boys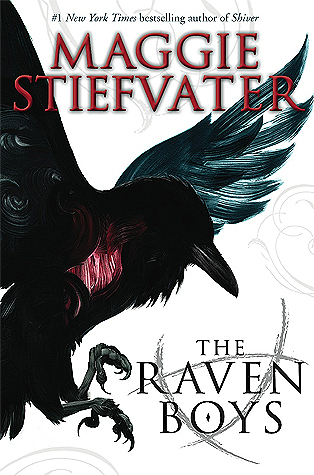 The Raven Boys | Maggie Stiefvater | Reihe #1 | 409 Seiten
"There are only two reasons a non-seer would see a spirit on St. Mark's Eve," Neeve said. "Either you're his true love . . . or you killed him."
It is freezing in the churchyard, even before the dead arrive.
Every year, Blue Sargent stands next to her clairvoyant mother as the soon-to-be dead walk past. Blue herself never sees them—not until this year, when a boy emerges from the dark and speaks directly to her.
His name is Gansey, and Blue soon discovers that he is a rich student at Aglionby, the local private school. Blue has a policy of staying away from Aglionby boys. Known as Raven Boys, they can only mean trouble.
But Blue is drawn to Gansey, in a way she can't entirely explain. He has it all—family money, good looks, devoted friends—but he's looking for much more than that. He is on a quest that has encompassed three other Raven Boys: Adam, the scholarship student who resents all the privilege around him; Ronan, the fierce soul who ranges from anger to despair; and Noah, the taciturn watcher of the four, who notices many things but says very little.
For as long as she can remember, Blue has been warned that she will cause her true love to die. She never thought this would be a problem. But now, as her life becomes caught up in the strange and sinister world of the Raven Boys, she's not so sure anymore.
Blue Sargent had forgotten how many times she'd been told that she would kill her true love.
Ich weiß, dass ich schon seit einem Jahr davon rede, dass ich diese Reihe lesen will—auf dem Wunschzettel stand sie sogar noch länger. Sie gehört damit also definitiv zu den Büchern, die ich schon viel früher hätte lesen können, es aber nicht getan habe ohne dass es dafür einen richtigen Grund gibt.

Nach meiner "Leseflaute" im Oktober (oder eher Zeit, in der ich wenig gelesen habe) stand dieses Buch ganz oben auf meiner Leseliste und war daher auch das, was ich nach dem Stress des NaNoWriMos als erstes in die Hand genommen habe. Und wie ihr das schon von mir kennt, wusste ich, trotz all der Wartezeit und den gefühlt Tausend Rezensionen, die ich zu der Reihe gelesen habe, nicht wirklich, worum es eigentlich geht.

Und auch hier hat sich das Mal wieder als richtige Entscheidung herausgestellt, denn auch, wenn es dieses Buch schon seit fünf Jahren gibt (Gott, ich werde alt), fand ich die Idee der Geschichte total cool und originell und hatte nicht eine Sekunde das Gefühl, alles schon einmal so oder ein bisschen anders gelesen zu haben.

Ich bin sehr froh, dass ich das Buch endlich in die Hand genommen habe, denn auch wenn ich am Anfang ein bisschen brauchte, um in die Geschichte hineinzufinden, konnte ich es am Ende gar nicht mehr zur weglegen und habe die letzten 250 Seiten an einem Stück gelesen.

Blue als Protagonistin mochte ich auch ziemlich gerne, aber besonders ihre Dynamik mit den Raven Boys hat mir gefallen. Nach diesem Buch hoffe ich, dass ich davon in den folgenden Teilen noch mehr bekomme, aber eigentlich bin ich ziemlich sicher, dass das der Fall sein wird. Ich bin sehr gespannt darauf, was als nächstes passiert und daher wird es bestimmt auch nicht lange dauern, bis ich mir den zweiten Teil zulegen werde.