[Rezension] My Life Next Door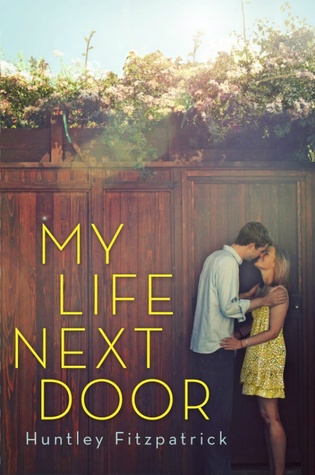 My Life Next Door | Huntley Fitzpatrick | Reihe #1 | 394 Seiten


"One thing my mother never knew, and would disapprove of most of all, was that I watched the Garretts. All the time."
The Garretts are everything the Reeds are not. Loud, messy, affectionate. And every day from her rooftop perch, Samantha Reed wishes she was one of them . . . until one summer evening, Jase Garrett climbs up next to her and changes everything.
As the two fall fiercely for each other, stumbling through the awkwardness and awesomeness of first love, Jase's family embraces Samantha - even as she keeps him a secret from her own. Then something unthinkable happens, and the bottom drops out of Samantha's world. She's suddenly faced with an impossible decision. Which perfect family will save her? Or is it time she saved herself?
A transporting debut about family, friendship, first romance, and how to be true to one person you love without betraying another.
The Garretts were forbidden from the start.
Kennt ihr diese Bücher, die jahrelang auf dem SuB liegen und echt toll sein sollen, die man aber irgendwie doch nie liest, weil es nicht der richtige Zeitpunkt ist? Dieses Buch hier gehört bei mir in definitiv dazu.
Für 2016 habe ich mir aber fünf Bücher herausgesucht, die ich in eine Kategorie namens "SuB oder weg" eingeordnet habe. Damit meine ich also Bücher, die ich dieses Jahr lesen "muss", denn wenn ich es jetzt nicht tue, wird es wahrscheinlich nie passieren und dann kann ich sie auch aussortieren.
Gerade bin ich einfach sehr froh, dass ich mich sozusagen selbst ein bisschen dazu gezwungen habe, es endlich in die Hand zu nehmen, denn sonst läge es wahrscheinlich immer noch hier. Ich habe wirklich nicht erwartet, aber dieses Buch hat mir unglaublich gut gefallen. Der Hype ist ja schon relativ lange her und ich weiß gar nicht mehr genau, was damals alle gesagt haben und was sie so gerne mochten. Für mich war es einfach das Gesamtpaket. Ich habe die Charaktere geliebt (oder gehasst - was eben besser gepasst hat) und alle Beziehungen unter ihnen, es war total lustig, aber es wurden auch so viele ernste Themen angesprochen und ach, ich kann es einfach gar nicht so richtig in Worte fassen. Ich bin gerade einfach glücklich, dass ich es endlich gelesen habe und frage mich mal wieder, warum ich immer so lange brauche, um Bücher aus diesem Genre zu lesen.