[Rezension] Furthermore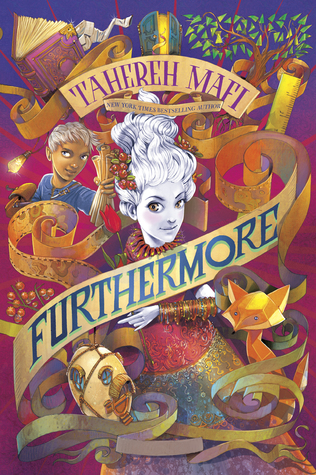 Furthermore | Tahereh Mafi | 403 Seiten
There are only three things that matter to twelve-year-old Alice Alexis Queensmeadow: Mother, who wouldn't miss her; magic and color, which seem to elude her; and Father, who always loved her. The day Father disappears from Ferenwood he takes nothing but a ruler with him. But it's been almost three years since then, and Alice is determined to find him. She loves her father even more than she loves adventure, and she's about to embark on one to find the other.
But bringing Father home is no small matter. In order to find him she'll have to travel through the mythical, dangerous land of Furthermore, where down can be up, paper is alive, and left can be both right and very, very wrong. Her only companion is a boy named Oliver whose own magical ability is based in lies and deceit--and with a liar by her side in a land where nothing is as it seems, it will take all of Alice's wits (and every limb she's got) to find Father and return home to Ferenwood in one piece. On her quest to find Father, Alice must first find herself--and hold fast to the magic of love in the face of loss.
Once upon a time, a girl was born.
Warum fühle ich mich immer so schlecht, wenn ich Büchern nur 1 oder 2 Punkte gebe? Früher habe ich mich das irgendwie nie "getraut", weil ich es irgendwie echt unfair den Autoren gegenüber finde… aber wenn mir ein Buch nicht gefällt, dann will ich ja auch nicht lügen.
Meistens ist es bei mir auch gar nicht so, dass ich das Buch unfassbar schlecht finde, sondern, dass es einfach nichts für mich ist. Das ist in letzter Zeit irgendwie öfter so und vielleicht wäre es anders, wenn ich das Buch zu einem anderen Zeitpunkt gelesen hätte, aber jetzt ist es nun mal wie es ist. Leider gehört auch "Furthermore" zu den Büchern, die mich dieses Jahr enttäuscht haben. Ich habe so ziemlich seit Bekanntgabe dieses Buches darauf hingefiebert und war wirklich sehr, sehr gespannt.
Und was soll ich sagen? Leider konnte mich die Welt, die so magisch und bunt und besonders sein sollte, nicht in seinen Bann ziehen. Ich hatte sogar das Gefühl, dass es für mich ein bisschen zu magisch und zu bunt war. Insgesamt war es für mich einfach ziemlich überladen und ich habe mich in der Welt nicht gut zurechtgefunden. Ich finde es einfach schwierig, so viele Einzelheiten auf knapp 400 Seiten zu "quetschen". Aber wie gesagt das ist alles Ansichtssache.
Leider ging es mir mit den Charakteren nicht anders. Ich habe zu keinem von ihnen einen Zugang finden können und deswegen hat es mich leider auch nicht besonders interessiert, was mit ihnen passiert. Zum Ende hin wurde das ein bisschen besser, aber auch die Auflösung der ganzen Rätsel im Laufe der Zeit hat mir nicht so gut gefallen.
Insgesamt tut es mir einfach ein bisschen weh, diese Rezension zu schreiben, weil mir Tahereh Mafi so sympathisch ist und mir ihre erste Trilogie so gut gefallen hat. Leider kann ich hier wieder nur sagen: es war einfach nichts für mich.