[Rezension] The Goal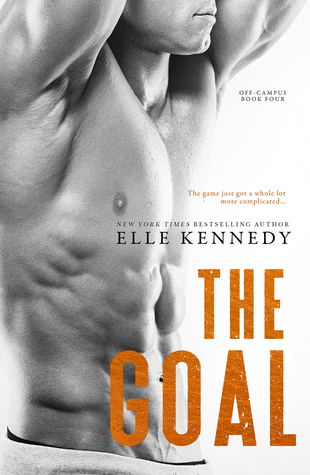 The Goal | Elle Kennedy | 350 Seite | Reihe #4
She's good at achieving her goals…
College senior Sabrina James has her whole future planned out: graduate from college, kick butt in law school, and land a high-paying job at a cutthroat firm. Her path to escaping her shameful past certainly doesn't include a gorgeous hockey player who believes in love at first sight. One night of sizzling heat and surprising tenderness is all she's willing to give John Tucker, but sometimes, one night is all it takes for your entire life to change.
But the game just got a whole lot more complicated...
Tucker believes being a team player is as important as being the star. On the ice, he's fine staying out of the spotlight, but when it comes to becoming a daddy at the age of twenty-two, he refuses to be a bench warmer. It doesn't hurt that the soon-to-be mother of his child is beautiful, whip-smart, and keeps him on his toes. The problem is, Sabrina's heart is locked up tight, and the fiery brunette is too stubborn to accept his help. If he wants a life with the woman of his dreams, he'll have to convince her that some goals can only be made with an assist.
The Goal ist der vierte und letzte Teil der Off-Campus-Reihe von Elle Kennedy. Als ich den ersten Teil letztes Jahr im Oktober angefangen habe, hätte ich nicht gedacht, dass sie mir so sehr ans Herz wachsen wird oder das ich schon jetzt das Bedürfnis habe, sie noch einmal zu lesen. Das könnte zwar auch daran liegen, dass ich gerade im absoluten Reread-Fieber bin, aber das lassen wir jetzt mal außen vor.
Insgesamt ist The Goal zwar der Teil, den ich am wenigsten mag—und irgendwie habe ich das Gefühl, das geht den meisten so—aber er war trotzdem ein toller Abschluss für die Reihe. Ich freue mich jetzt noch auf die beiden Spin-off-Teile (oder was auch immer sie sind) Him und Us und danach muss ich wohl mal schauen, was es sonst noch so von Elle Kennedy gibt. Ich weiß, sie hat einige Reihen geschrieben, aber da muss man ja auch erstmal durchsteigen.
Ansonsten… wie schon gesagt, Sabrina und Tuckers Geschichte hat mir nicht ganz so gut gefallen, wie die Vorgängerteile. Einerseits, weil der "Schocker" oder "Plot-Twist" oder wie auch immer man es nennen will, ja schon am Ende des 3. Teils enthüllt wurde und es deswegen in diesem kein bisschen überraschend kam. Andererseits liegt es aber auch einfach daran, dass mir dieser Handlungsstrang (einer ungewollten Schwangerschaft) langsam echt auf den Geist geht. Wahrscheinlich ist das Geschmackssache und ich würde auch sagen, dass dieses Buch noch eins der besseren aus diesem Bereich ist, aber trotzdem, mein Fall war es leider nicht so ganz.
Was nichts daran ändert, dass ich jetzt traurig bin, dass die Reihe vorbei ist und ich sie alles in allem nur empfehlen kann!