[Rezension] The Distance Between Us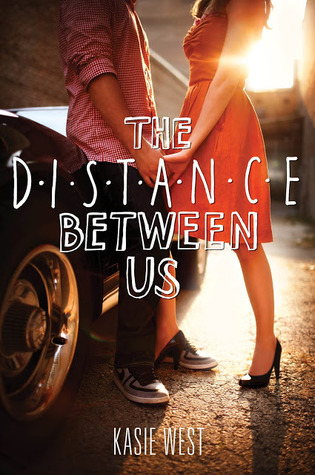 The Distance Between Us | Kasie West | 312 Seiten
Seventeen-year-old Caymen Meyers studies the rich like her own personal science experiment, and after years of observation she's pretty sure they're only good for one thing—spending money on useless stuff, like the porcelain dolls in her mother's shop.
So when Xander Spence walks into the store to pick up a doll for his grandmother, it only takes one glance for Caymen to figure out he's oozing rich. Despite his charming ways and that he's one of the first people who actually gets her, she's smart enough to know his interest won't last. Because if there's one thing she's learned from her mother's warnings, it's that the rich have a short attention span. But Xander keeps coming around, despite her best efforts to scare him off. And much to her dismay, she's beginning to enjoy his company.
She knows her mom can't find out—she wouldn't approve. She'd much rather Caymen hang out with the local rocker who hasn't been raised by money. But just when Xander's attention and loyalty are about to convince Caymen that being rich isn't a character flaw, she finds out that money is a much bigger part of their relationship than she'd ever realized. And that Xander's not the only one she should've been worried about.
My eyes burn a hole in the page.
The Distance Between Us liegt aus irgendeinem Grund schon ewig bei mir. Ich habe es mir als leichte Lektüre für zwischen durch gekauft und es dann doch nicht gelesen. Keine Ahnung, warum. Bei manchen Büchern ist das einfach so. Die kaufe ich mir, mit dem festen Vorhaben sie gleich zu lesen, tue es dann aber nicht und nehme es erst Monate später wieder in die Hand. Das hier habe ich jetzt an einem Nachmittag gelesen—und fand es super. Manchmal muss ich mein Gehirn auch nicht verstehen.
Die Protagonistin, Caymen, war mir von Anfang an super sympathisch. Ich habe mich sofort mit ihr und ihrem Sarkasmus verbunden gefühlt. Sie ist das perfekte Beispiel dafür, warum ich nie in direktem Kundenkontakt arbeiten könnte.
Aber auch sonst hat das Buch mir echt gut gefallen. Es war so leicht und fluffig wie ich erwartet habe, lustig und ich fand es eigentlich auch ganz süß, wie mit der Frage: was will ich eigentlich nach der Schule machen? umgegangen wurde. Auch darin habe ich mich ein bisschen wiedergefunden.
Auf jeden Fall wurde ich jetzt angefixt, habe mir gleich das nächste Buch von Kasie West bestellt und bin ziemlich sicher, dass ich das schneller lesen werde als dieses hier.