[Rezension] The Hate U Give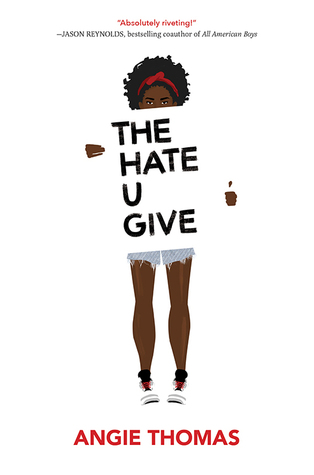 The Hate U Give | Angie Thomas | 464 Seiten
Sixteen-year-old Starr Carter moves between two worlds: the poor neighborhood where she lives and the fancy suburban prep school she attends. The uneasy balance between these worlds is shattered when Starr witnesses the fatal shooting of her childhood best friend Khalil at the hands of a police officer. Khalil was unarmed.
Soon afterward, his death is a national headline. Some are calling him a thug, maybe even a drug dealer and a gangbanger. Protesters are taking to the streets in Khalil's name. Some cops and the local drug lord try to intimidate Starr and her family. What everyone wants to know is: what really went down that night? And the only person alive who can answer that is Starr.
But what Starr does or does not say could upend her community. It could also endanger her life.
I shouldn't have come to this party.
Tief einatmen. Ich kann das. Es ist nur eine Rezension. Du hast schon hunderte Rezensionen geschrieben. Tja, irgendwie ist es aber einfach nicht das Gleiche. Ich habe das Gefühl, dass man dieser Rezension so viel falsch machen kann. Dabei geht es mir ja eigentlich nur darum, dass ich meine Begeisterung mit euch teilen und auf die Wichtigkeit dieses Buches aufmerksam machen möchte.
Es ist für mich nicht das erste Mal, dass das Thema Rassismus oder Polizeibrutalität in Büchern oder Serien thematisiert wurde, aber das erste Mal in diesem Genre/dieser Altersklasse. Meiner Meinung nach kann es aber gar nicht oft genug thematisiert werden und ich hoffe einfach mal, dass sich so mehr Leute mit diesem Thema beschäftigen und manchen dadurch die Augen geöffnet werden. Die, die es am nötigsten haben, würden so ein Buch zwar sowieso nicht in die Hand nehmen, aber man kann ja noch hoffen.
Ich weiß gar nicht, wo ich mit der Rezension anfangen soll oder worüber genau ich schreiben soll, weil einfach das Gesamtwerk großartig ist und man meiner Meinung nach gar keine einzelnen Punkte hervorheben kann. Spontan fällt mir gerade nur ein wie sehr mir die Familiendynamik gefallen hat und dass es lustig war, obwohl in dem Moment eigentlich alles ziemlich beschissen war und hach, ja. Ich muss das Ganze ja auch nicht unnötig in die Länge ziehen.
Falls ihr mit dem Gedanken spielt, das Buch eventuell zu lesen, dann tut es bitte.