[Rezension] The Wrath & the Dawn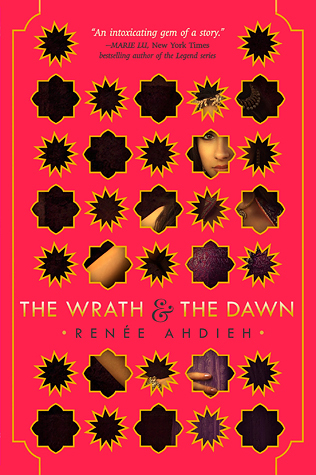 The Wrath & the Dawn | Renée Ahdieh | 388 Seiten | Reihe #1
One Life to One Dawn.
In a land ruled by a murderous boy-king, each dawn brings heartache to a new family. Khalid, the eighteen-year-old Caliph of Khorasan, is a monster. Each night he takes a new bride only to have a silk cord wrapped around her throat come morning. When sixteen-year-old Shahrzad's dearest friend falls victim to Khalid, Shahrzad vows vengeance and volunteers to be his next bride. Shahrzad is determined not only to stay alive, but to end the caliph's reign of terror once and for all.
Night after night, Shahrzad beguiles Khalid, weaving stories that enchant, ensuring her survival, though she knows each dawn could be her last. But something she never expected begins to happen: Khalid is nothing like what she'd imagined him to be. This monster is a boy with a tormented heart. Incredibly, Shahrzad finds herself falling in love. How is this possible? It's an unforgivable betrayal. Still, Shahrzad has come to understand all is not as it seems in this palace of marble and stone. She resolves to uncover whatever secrets lurk and, despite her love, be ready to take Khalid's life as retribution for the many lives he's stolen. Can their love survive this world of stories and secrets?
It would not be a welcome dawn.
Nachdem ich in letzter Zeit mal wieder einige begeisterte Reviews zu diesem Buch gelesen habe, ist es auf meiner Liste immer weiter nach oben gerutscht und ich habe es schließlich gekauft. Besonders hat mir der Gedanke gefallen, dass ich den zweiten Teil gleich hinterher schieben und die Reihe somit echt schnell beenden kann.
Am Anfang habe ich jedoch ein bisschen gebraucht, um in die Geschichte hineinzufinden. Ich mochte Shahrzad zuerst nicht besonders und Khalid genauso wenig. Es war irgendwie zu sehr die Instalovestory und ich konnte sie gar nicht nachvollziehen. Das hat sich im Laufe der Geschichte zum Glück geändert. Am Ende hat es mir dann wesentlich besser gefallen und ich fand es wirklich spannend. Ich bin jetzt sehr gespannt auf den zweiten Teil, weil ich hoffe, dass er genauso weitermacht und man vielleicht noch ein bisschen mehr über Khalids Geheimnis und über Shahrzad erfährt.