[Rezension] The Deal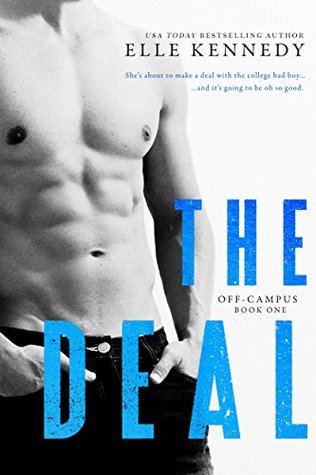 The Deal | Elle Kennedy | 330 Seiten | Reihe #1
She's about to make a deal with the college bad boy...
Hannah Wells has finally found someone who turns her on. But while she might be confident in every other area of her life, she's carting around a full set of baggage when it comes to sex and seduction. If she wants to get her crush's attention, she'll have to step out of her comfort zone and make him take notice...even if it means tutoring the annoying, childish, cocky captain of the hockey team in exchange for a pretend date.
...and it's going to be oh so good
All Garrett Graham has ever wanted is to play professional hockey after graduation, but his plummeting GPA is threatening everything he's worked so hard for. If helping a sarcastic brunette make another guy jealous will help him secure his position on the team, he's all for it. But when one unexpected kiss leads to the wildest sex of both their lives, it doesn't take long for Garrett to realize that pretend isn't going to cut it. Now he just has to convince Hannah that the man she wants looks a lot like him.
He doesn't know I'm alive.
Es ist länger her als ich dachte, dass ich ein NA-Buch gelesen habe. Das ist mir aber erst beim Lesen wieder aufgefallen. Ich weiß nicht genau, woran das liegt, aber ich hatte in letzter Zeit einfach keine besonders große Lust darauf.
Nachdem ich aber so viel Gutes über "The Deal" gehört habe, habe ich es mir im Oktober endlich bestellt. Ich weiß nicht genau, was ich erwartet habe - ich habe mal wieder nicht die Inhaltsangabe gelesen - aber ich war wirklich überrascht, wie süchtig das Buch gemacht hat. Ich habe es in zwei Tagen gelesen und eigentlich habe ich es auch nur unterbrochen, weil ich zwischendurch zur Arbeit musste. Es ist definitiv eins der guten NA-Romane und ich habe mich beim Lesen wirklich sehr gut unterhalten gefühlt. Ich mochte die Handlung und die beiden Hauptcharaktere wirklich sehr gerne. Ich glaube, es ist schwierig in diesem Genre noch etwas komplett Neues zu erschaffen, weswegen es mich nicht hundertprozentig umhauen konnte und ich einen halben Punkt abgezogen habe.
Trotz allem habe ich eine tolle neue Reihe für mich entdeckt und bin schon sehr gespannt auf die nächsten Bände und die Geschichten der anderen Charaktere!